Where, wear, ware…… what shall we call it. It's a common thing with timber species – Tasmanian Oak is also called Mountain ash, alpine ash, gum-topped stringybark, Australian oak, Messmate, whitetop stringybark, white-top and woollybutt to name a few of the popular ones. Victorian Ash is also Alpine Ash and Mountain Ash……hang on, aren't they Tasmanian Oak!
Timber can be confusing! Typically, I talk colour tones and appearance with my clients before speaking about timber species, as it's a rabbit warren of names. It you know a timber you want, excellent – let me know. If not, having a look at this blog may help, along with checking out our previous works.
TASMANIAN OAK
Tasmanian Oak comprises of three eucalypt tree species that are marketed as a group meaning you are never quite sure what you'll get. E. Delegatensis (alpine ash) occurs at higher altitudes, while E. Regnans (mountain ash) is found in wetter sites; E. Obliqua (messmate) has a wide distribution, occurring in wet forests, but also extending into drier areas.
Tasmanian Oak is well known for its durability, workability, and versatility. It tends to showcase stunning blonde tones and simplistic grain but can showcase tones into the browns and red shades as well, meaning it's not an ideal choice where pale tones are requested.
I tend to specify VICTORIAN ASH by trade name (Alpine Ash and Mountain Ash) over Tasmanian Oak when deciding on sustainably sourced timbers and discussing project builds as these species are similar in appearance, unlike Tasmanian Oak whose tones and colour can very quiet a lot. Typically, Victorian Ash will be straight grain without too many sap lines, or high figure grain, making it a great choice where a 'clean' look is desired. It also stains well so is my select timber where staining is required.
Another popular timber is within this group is Messmate, a well-known hardwood that has wonderful colour range. Grown in Tasmania, Victoria, parts of NSW and Queensland, it's usually readily available…when there's not a building boom! Colour varies from pale brown to pale yellows and can feature deep dark tones along with gum veins. It's my go to timber where people are after an option that won't be 'boring' – expect colour variation, sap lines and as a result black epoxy and fill to create a unique piece.  Sustainably sourced Messmate tends to be less varied in colour verse reclaimed but there's always a bit of an unknown outcome expected.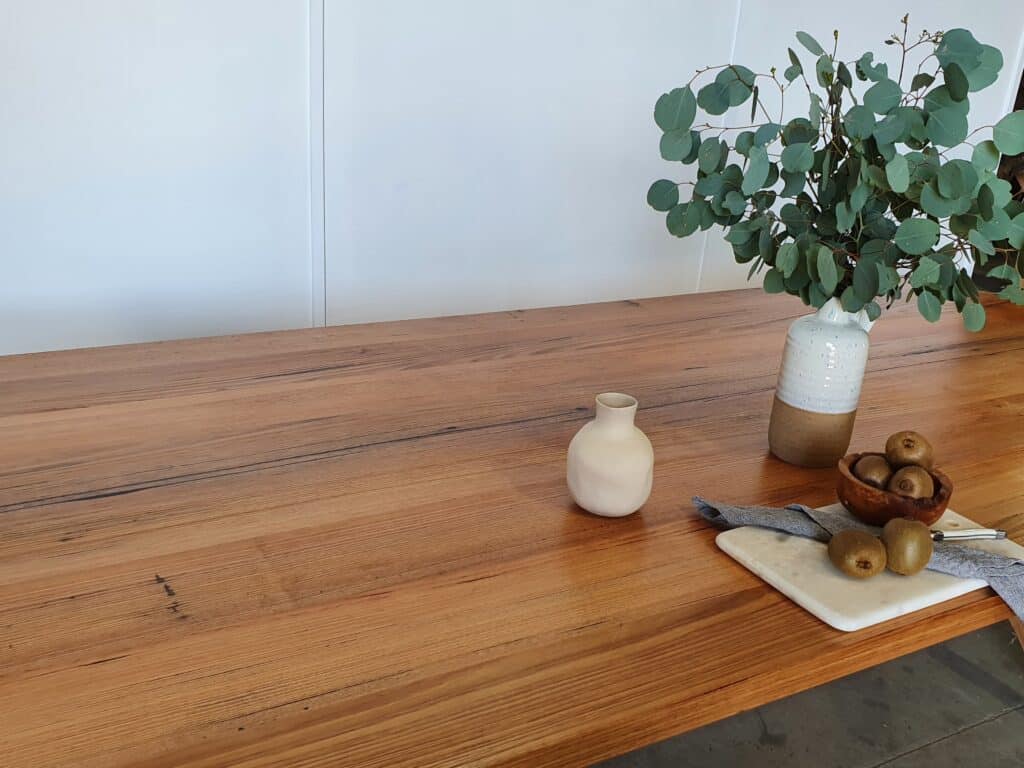 RED GUM
For a common hardwood, finding quality milled Red Gum isn't always easy. Trees felled by storms / age etc. are often turned into firewood or cut into slabs for slab furniture.
Red gum remains a popular choice for timber and is provides wonderful results once finished. The timber is hard and durable and features a wonderful red colour. It's not uncommon to have sap veins, and high feature grain, resulting in furniture that is truly unique.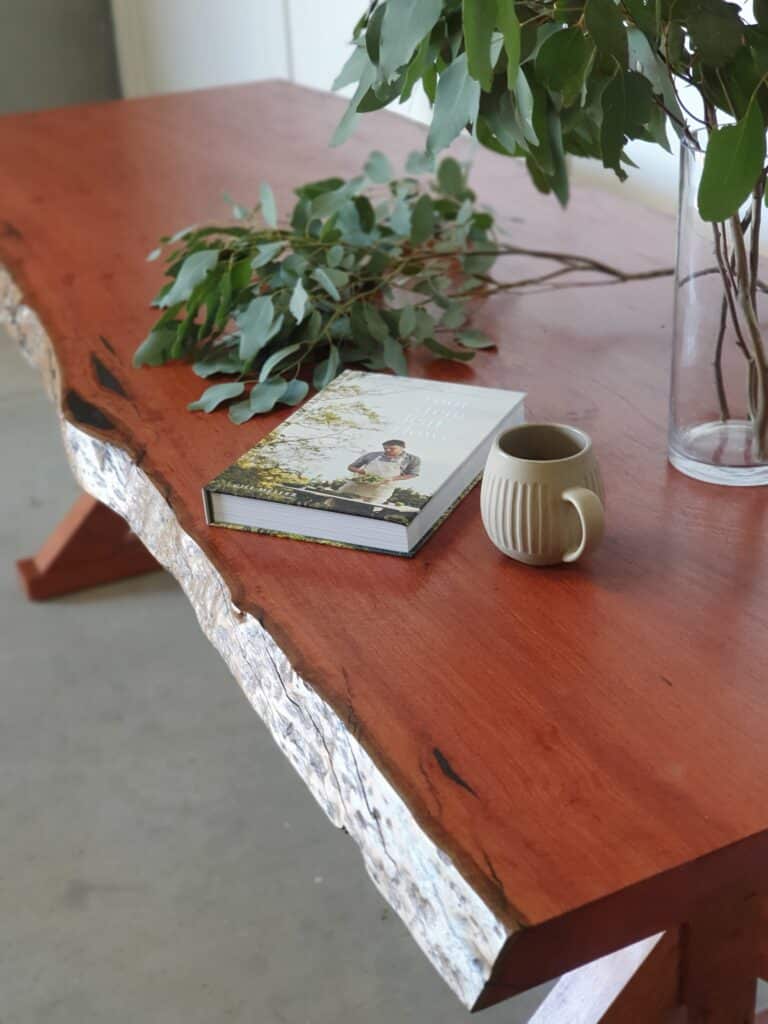 RECLAIMED HARDWOODS
When it comes to reclaimed timbers for more rustic pieces, I tend to use the generic term 'reclaimed hardwood' to keep it simple. I could call it reclaimed Tasmanian Oak, as that's what the vast majority of the reclaimed timbers will be, but since there's so much variation the generic term seems better suited. Some of these reclaimed timbers date back decades so I tend to work more on the colour tones when using reclaimed material.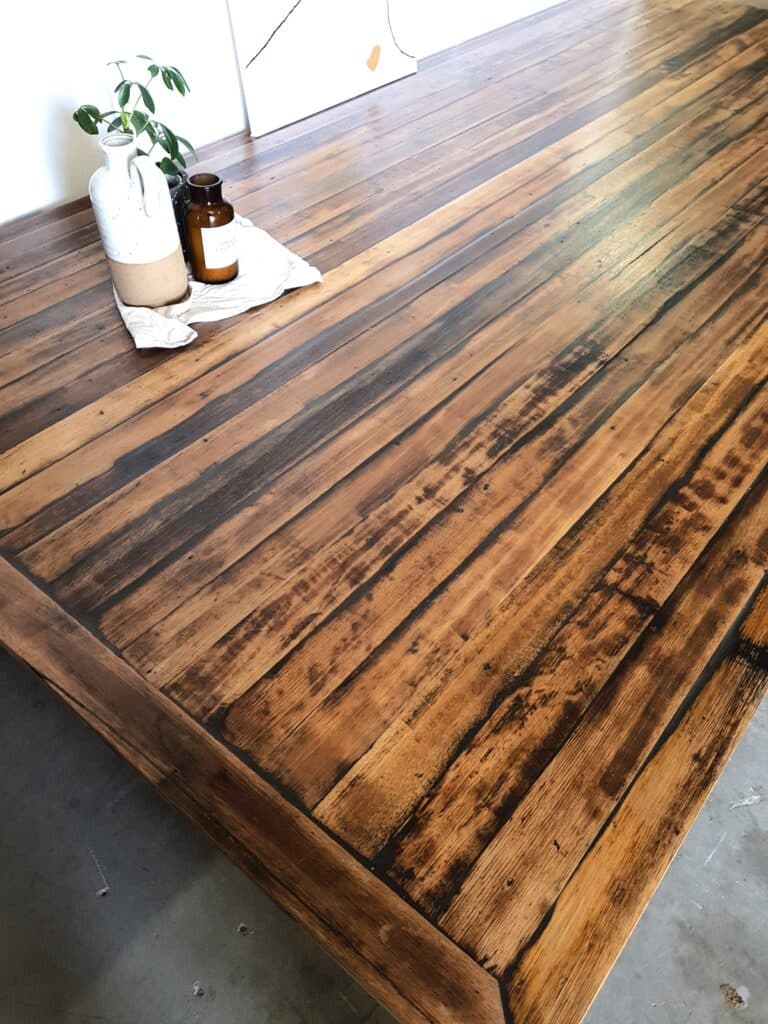 BLACKBUTT
Blackbutt is a light brown coloured hardwood that is typically grown in the coastal regions of Queensland and New South Wales. It is a light brown coloured hardwood, very dense and hard with an even texture.
Blackbutt trees are dark at the bottom and light at the top. When it's milled into timber, however, it ranges in colour from golden yellow to pale brown, with soft pink elements. It has an even texture with a straight grain. Due to its quick growth and versatility, blackbutt makes a good plantation timber.
Interesting fact – Blackbutt provides good fire resistance and is one of seven hardwood timber species that was found to be suitable by the Building Commission in Victoria for home construction in bushfire areas.